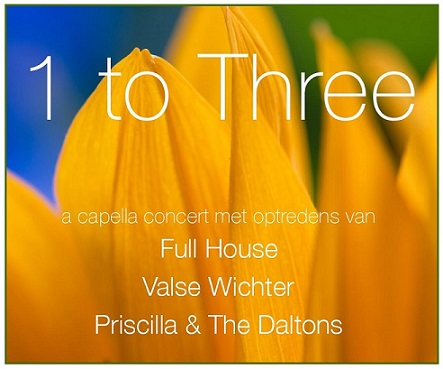 HOERA. Dit keer is het wel gelukt om samen met theatraal getint vrouwenkwartet Valse Wichter èn (on)verbloemd zingend herenkwintet Priscilla & the Daltons een triple concert te verzorgen! Vorig jaar was het een groot succes in De Melkfabriek in Bunne, maar de mannen van Priscilla moesten toen helaas afzeggen. Zondag 7 februari was de reprise in Theatercafé De Engelstede!
De zaal was goed gevuld en het publiek vond het leuk! Priscilla & the Daltons beten het spits af met mooie arrangementen van Jetse Bremer, waarbij ze intieme liedjes niet schuwden: 'This house is empty now' van Elvis Costello bijvoorbeeld. Maar ook 'Zwijgen' van Het Goede Doel passeerde de revue.
Full House nam daarna het stokje over met de gebruikelijke afwisseling tussen zacht, pop en humor: 'God only knows' van The Beach Boys bijvoorbeeld, Chili con Carne van The Real Group en ons nieuwe lied 'Een kleine ingreep' (tekst van Martine Bijl) als hilarisch hoogtepunt.
D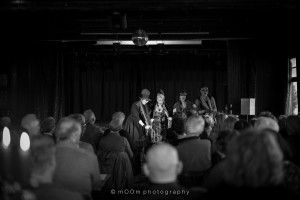 e Valse Wichter vermaakte het publiek tenslotte met heksenliedjes en eigengeschreven cabareteske nummers over o.a. internetdaten en sterke vrouwen.
Fotografie: mOOm photography
Meer foto's vind je hier!